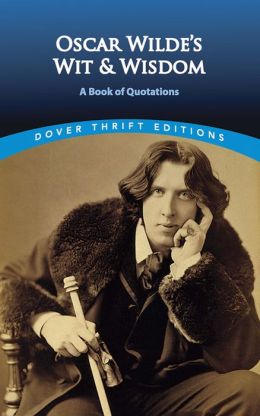 Product Details
ISBN-13:

9780486401461

Publisher:

Dover Publications

Publication date:

1/27/1998

Series:

Dover Thrift Editions Series

Pages:

64

Sales rank:

636,582

Product dimensions:

5.00 (w) x 8.10 (h) x 0.30 (d)
"A good reputation is one of the many annoyances to which I have never been subjected." - 'A Woman of No Importance'
"I can resist everything except temptation." - 'Lady Windermere's Fan'
"Don't be led astray into the paths of virtue." - In Conversation
On Life – 'The Soul of Man under Socialism'
"To live is the rarest thing in the world. Most people exist, that is all."
On Life – In Conversation – I wish I know when this was said, before or after this hard labor prison.
"I wrote when I did not know life; now that I do know the meaning of life, I have no more to write. Life cannot be written; life can only be lived."
On Love – In Conversation
"Keep love in your heart. A life without it is like a sunless garden when the flowers are dead. The consciousness of loving and being loved brings a warmth and richness to life that nothing else can bring."
On Conduct – 'The Remarkable Rocket' – I thought this seems mean, but I'm missing context.
"A sensitive person is one who, because he has corns himself, always treads on other people's toes."
On Conduct – In Conversation – this was thought provoking and made me think of his trial.
"I never came across anyone in whom the moral sense was dominant who was not heartless, cruel, vindictive, log-stupid, and entirely lacking in the smallest sense of humanity. Moral people, as they are termed, are simple beasts. I would sooner have fifty unnatural vices than one unnatural virtue."
On Literature – 'The Picture of Dorian Gray" – This reads even better standalone than in the book.
"The books that the world calls immoral books are books that show the world its own shame."
On Poverty – 'The Soul of Man under Socialism' – So true; lived through this…
"Sometimes the poor are praised for being thrifty. But to recommend thrift to the poor is both grotesque and insulting. It is like advising a man who is starving to eat less."
On Government – 'The Soul of Man under Socialism' – an hmm moment…
"High hopes were once formed of democracy; but democracy means simply the bludgeoning of the people by the people for the people."
On Emotion – 'The Picture of Dorian Gray' – If this is true, I am a shallow person.
"It is only shallow people who requires years to get rid of an emotion. A man who is master of himself can end a sorrow as easily as he can invent a pleasure."
"Experience is the name every one gives their mistakes."
"The only difference between the saint and the sinner is that every saint has a past, and every sinner has a future."
"Moods don't last. It is their chief charm."
http://www.librarything.com/work/182784